Here at Fox and Lee, we are a proud member of our local community. When Melbourne based Businesses are looking to grow themselves with eCommerce Web Development, we are happy to lend a hand.
We offer expert design and advanced development specialities (such as CS-Cart mastery). Thus, you can trust us to transform your online presence to a strategic representation of your business. 
We are committed to being apart of your online journey. We support your business as it grows online and different opportunities arise.
Here are three of the many examples of eCommerce Web Development where we developed a web solution for local businesses.
Lashes Australia
Lashes Australia is an exclusive online supplier of quality lash products. Upon visiting, you'll notice they proudly express their core values of great customer service quality product throughout their website.
This design is bright and clean and highlights their product. Similarly, messaging is clear with key promotional details highlighted using impactful banners. Language including 'Premium' and 'Quality' reinforces their brand promise.
By including a page about 'Lash Tips' Lashes Australia position themselves as an expert in the industry. Additionally, they invite reviews on each product in their range. Lashes Australia is proud of its brand and products. Hence, they let that shine through with their online presence.
Lashes Australia is a wholesaler of lash extension and accessories. The transparent nature of the features included in their eCommerce web design reinforces the integrity of the brand. As a result, this speaks to their target audience, being businesses and professionals in the industry.
Windragon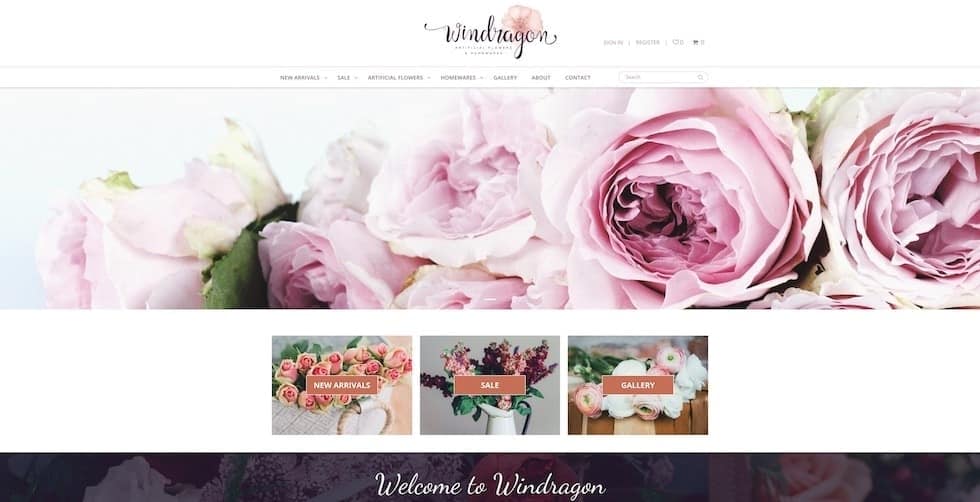 Windragon let pictures of their products do the talking on their homepage. Beautiful flowers are everywhere you look. The use of imagery acts as a strong selling tool.
Windragon's website features an easy to navigate menu system. They've also included a Gallery in their web design that showcases their beautiful artificial flowers.
This website is customer-centric and makes getting in contact clear the user. The customer service provided with a user-experience focused design represents the company's values in a digital format.
The ordering system was a key part of the development of Windragon's website. Because of this we sorted out the backend for them and left Windragon with an easy to use web experience.
Collecte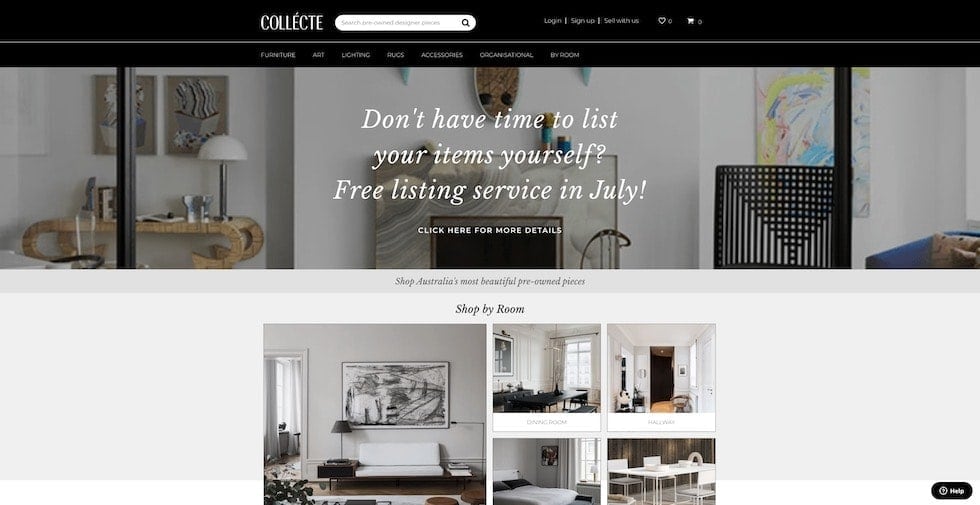 Collecte had the great idea of setting up a marketplace that focuses on preowned designer furniture. 
As a Multi-Vendor eCommerce website, Collecte balances both customers and vendors landing on their homepage. Easily identifiable paths of navigation are laid out to both audiences. For example, separate help centres exist for vendors and customers in the footer of the page. Collecte manages dual requirements with specific functionality catered to each audience.
Their website's integrity is managed through a range of features, such as a review system for vendors and an approved list of designer categories eligible for selling on the site.
Additionally, their website design incorporates a range of elements that make their website unique. Attention to detail positions Collecte to meet their customers needs no matter how varied they may be.
The best part of this website is that with all these moving parts, Collecte still feels undemanding and natural to navigate for the user. 
Collecte launched this year. We're excited to see how they grow and develop as more people discover this one of a kind website.
Are you ready to evolve your online store?
Here at Fox and Lee, we create Strategic Digital Solutions and Ecommerce Sites that elevate your business. We think your website deserves better than a template.
We'd love to be a part of your eCommerce Web Design website design. Please get in touch with us on 03 9043 1039 or by completing the form below.
Related Reading: 5 ways to make your ecommerce solutions more profitable